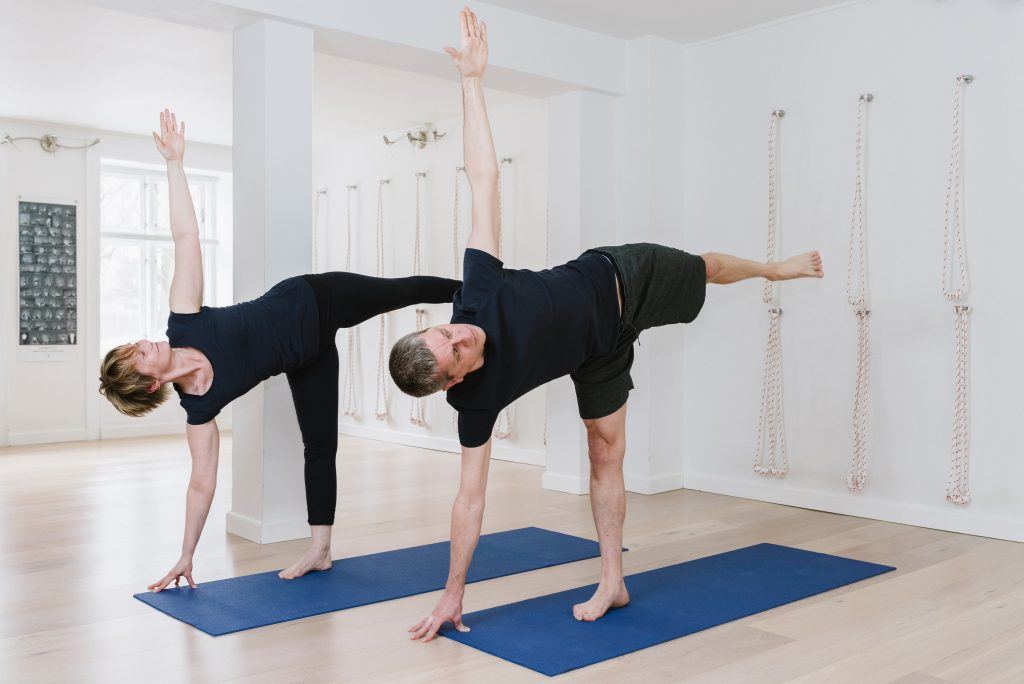 We offer yoga classes in Nørrebro, Copenhagen
 Our aim is to create an open and welcoming atmosphere for the interested student – regardless of your starting level.
We believe that yoga can help everyone to improve their quality of life – regardless of whether you are: new to exercise, are recovering from an injury, are an athlete looking to understand your body better. Our aim is to work with you, to help you to improve your health and to understand yourself better.
Iyengar yoga classes in Copenhagen
Satya Yoga in Nørrebro is offering a safe, living and thorough teaching by certified Iyengar yoga teachers in Copenhagen, with many years of experience.
Satya yoga is us: Lone and Thomas – partners in life and in yoga. Each of us has completed three years of an Iyengar yoga teacher training and another three years of therapeutic yoga training.
In addition, we each have over 15 years of experience teaching yoga.
All yoga classes taught by Lone are in Danish, all classes taught by Thomas are in English.
To go to our online store and buy classes, workshops and gift cards click here

To see our schedule and sign up for classes click here
If you are new to yoga click here
To download the app click on the link below: there you can buy classes, monthly cards, workshops and have an easy sign-up system.  
To come for a trial class: check the schedule, send us a text, tel: 50272839 with your name and the class you would like to join. The trial class is 135.- kr. Mats and props are provided.
Sign up for our newsletter and get a free 'Ayurvedic cooking recipe'.